Observation, imagination, and creation. At least, that's how I see it. These three elements play a role in everything I do as an artist and as a teacher, and they influence each other in a continuous cycle. What we observe and imagine, we can create. What we create, we observe. The things we observe, along with the process of creation, work together to influence what fills our imagination and our very understanding of ourselves and others.
So why bother separating them? I have found that using these categories to figure out the overall goal for each art lesson helps me develop content best suited for developing a specific area, and decide what necessary supports I can provide to reduce the amount student effort required in the other areas. Of course, the ultimate goal of artistic training is to be able to execute a project that integrates all three in a self-directed way, but most students (and adults!) are far from that level of achievement. My role as an art teacher is to provide focused support and training for students to improve and become more comfortable in each area.
Definitions and Examples
Observation (also sometimes called visual literacy): the ability to observe, understand, and evaluate the things we see in the world, including our own art.
Imagination: using our creative mental muscles to solve problems, and to practice combining ideas, feelings, concepts, and images together in unique ways.
Creation: the fundamental artistic ability of making images and objects, which includes the mastery of various art tools, materials, and processes.
Now lets look at these areas of focus in terms of a broad subject — drawing human faces. For many, this can be a very intimidating task. That's because faces don't look like we expect, and certainly not how we are taught how to draw them as young children. The disconnect between our creation, our observation of the real world, and what we imagine in our heads, can lead to a lot of frustration, especially as students become aware of these differences. For many, this awareness happens around fourth or fifth grade, but some students notice and become upset at younger ages, leading to a feeling that their art "sucks," no matter what others may say. The only solution is not to reassure them that it's "good" but to help them work to create work that matches the images they have in their head.
How does this happen? By strengthening skills of observation and creation, which circle around and feed a student's imagination. It doesn't matter whether observation or creation comes first, but both need to built up in alternating lessons.
An example lesson for explicitly teaching observation would be as follows:
Show one or more mostly realistic image of a face. This can be a famous piece of art (such as the Mona Lisa, but there are so many other options), a photograph, or a work by a local artist. I've used my own art below as an example, but as you revisit this project, I recommend expanding your search into areas that interest you. There are so many great resources available online!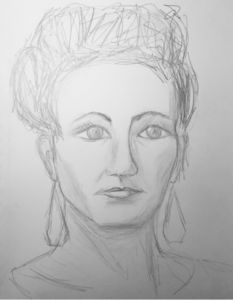 Ask students to notice what they observe about this picture. Visual Thinking Strategies suggests this simple line of questioning:
What's going on in this picture?
What do you see that makes you say that?
What more can you find?
Remember: there are no right or wrong answers! It is only what they observe, and you can learn a LOT about the students by how they answer. It can help to rephrase their answer to make it concise and clear enough for the whole class to hear different answers, but be careful to check in with the student to ensure you caught the essence of what they were trying to express. Spend time with this, depending on the image you can get information about different topics like location and emotion.
Next step is to deepen observation to include proportions. Where on the face are the eyes? How big is the nose? How wide is the mouth? Have students use their fingers to roughly measure their own faces. The reason for this step is that our minds (our imagination) don't store information they don't find important… like our foreheads. That is a lot of mostly empty space up there above our eyebrows! Most students, without training in observation, will draw a face with the eyes up near the hairline, when they are usually are at about the halfway mark. The bottom of the nose is about halfway between the eyes and the chin, and the mouth halfway between that.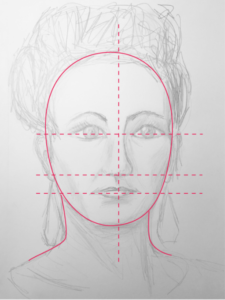 Once students begin to really notice where the different pars of a face are in relation to each other, they are step closer to being able to draw them in a more realistic fashion.
The next step is looking for familiar shapes (which is a whole lesson in itself, but I digress). Circles, ovals, footballs, the letters "m" and "c", these are all present in our faces. On a profile, the eye is more of a sideways "v" shape.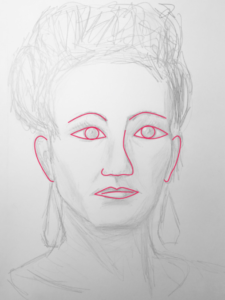 Beginning to notice where different types of shapes are in relation to each other is a vital skill in art. It's what helps a student move from the drawing on the left to the one on the right.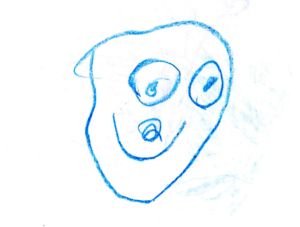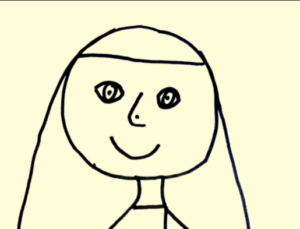 The other element important is practice with creation. The simple physical act of picking picking up a pencil, or pen. How to hold it. How hard to press, how to keep the paper from moving or crumpling. The simple motor skills involved in these tasks can requires explicit teaching or modeling (peer modeling is excellent — simply letting students draw together with their friends!) and lots of practice. Using markers or another medium to draw circles, ovals, zig zags, any sort of abstract drawing, over and over again. Practicing these sort of skills without any expectations about the end product is crucial to development, and assists with development and improvement of handwriting as well. Providing students with ample paper (using old flyers, junk mail, even envelopes) and providing unstructured free time to simply draw, doodle, and create, is so crucial to development of artistic skills, as well as self regulation.
The important thing to remember as an adult interacting with a student in the process of creation is to focus on effort instead of talent or outcome. "You really focused on coloring in that whole side of the paper!" "I can tell you spent a lot of time working on this." "Look how carefully you drew that circle!" This encourages them to keep going. Telling a child (really… just about anyone) that their art is "Beautiful!" gives no way forward, and can feel disingenuous if they're not happy with their art. It also makes it devastating when they go somewhere and don't get the same positive response, which will inevitably happen. A teacher, friend, or even you (when you're tired, maybe?) will inevitably react in a way that's less than enthusiastic. How to keep going from there? The only answer is to for them to know they put in a good effort, regardless of the outcome, and that the effort is valued.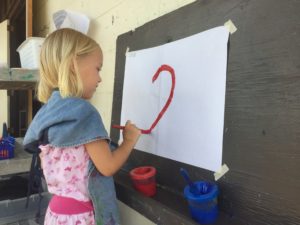 Now back to address specific skills in drawing a face. One activity would be to practice mirroring — being able to flip an image from one side to the other. While faces aren't perfectly symmetrical, it is particularly frustrating for a beginning artist to be unable to make both eyes about the same size and shape, the ears the same, to make the mouth curve the same way on both sides.
Another practice would involve the ability to draw simple shapes of different dimensions. When I first began teaching art, I was surprised to find sixth grade students who were unable to make a flatter "football" shape, and were drawing circles instead. They certainly found it difficult to draw the iris of the eye, because it takes practice to be able to draw a circle that touches another shape on the top and the bottom. To be able to draw a circle, period. To draw a straight line — horizontal, vertical, angled. Doing warm up activities which involve simple practice of copying abstract shapes and patterns is so vital.
As students improve their skills, practicing copying ever more intricate and delicate curves can help with their control over the medium, and this also ties in with their observation skills. They can also begin to learn how to do shading, different types of which require different hand skills, such as varying the darkness of the line, the width of the line, and being able to draw many lines in the same direction, in equal distances apart. Learning what colors work together, and how to combine them in ways that show the natural shade and highlights of an image.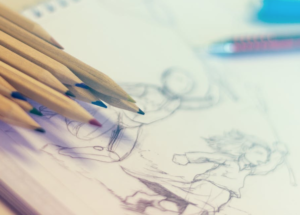 Last but certainly not least, what about imagination? That comes partly from increasing visual input — careful observation of a diversity of images will feed imagination. But it's not only images themselves, but stories, ideas, concepts. Listening to books on tape, telling a story, these require the listener to imagine the images in their head — and they can then pull upon these images for use in creating art.
But the real difference is in having the skill sets available to be able to begin to draw the images in a student's head. This gives them the confidence to continue to use art as a way to process and understand themselves and the world around them, and to ultimately come up with and recombine different ideas in new ways. As a teacher, parent, or caregiver, the act of nurturing the supporting skills of observation and creation are crucial to also nurturing a student's imagination.